Apple's recent patent applications through a new predictor of the future Apple Pencil or will add more new features, including the pen with a built-in sensor switch to different function such as the originality of the new features.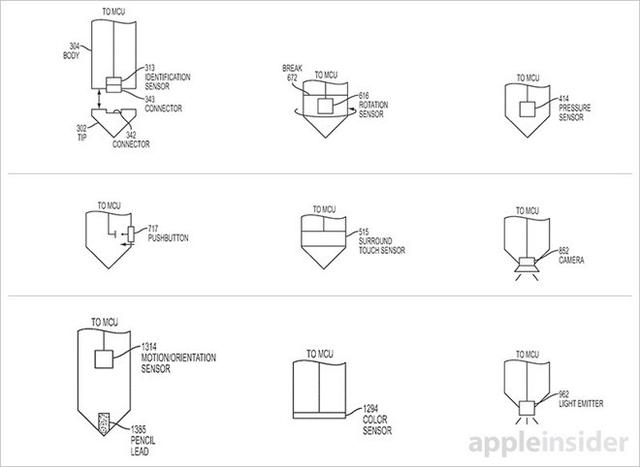 It is understood that the patent number to No. 9329703 of apple "smart" new patents, with built-in sensors, microprocessor and advanced algorithm can capture gestures to control the content is displayed on the screen. In the stylus and the combination of different gestures through specific, can let the tablets capture the special signal. The signal transmission is by a series of sensors and pressure to the tablet after induction decomposition, and transmission through wireless communication protocols.
Such as a smart pen with high precision pressure sensor can through the change of the input power, present the effect of different thickness on the screen. And further through the installation within the pen of the transmitter test different Angle, to realize the different content of the painting.
In addition, the patent also shows that apple is a new intelligent adopted the modular design, can switch by means of hot plug different effects of the tip, at the same time different pen in internal sensor to identify unique identification code. And such as brushes, pencils, felt tip is included.
Brush pen can by activating effect, for example, the internal processor, with pencil completely different effect, the same as if the user USES the real drawing tool, implement different requirements.
Besides can switch the tip, the new intelligent pen will also have similar to the fingerprint identification function the authentication function. If smart pen did not identify the identity of the user, then you will not achieve the corresponding effect.
In addition, from the point of patent documents, apple will also join similar eraser function, through the internal sensor and multi-function button, at the end of the smart pen like ordinary pencil erase the contents on the screen.
In view of the first generation of Apple Pencil listed for less than 1 year time, therefore said the patent contents is unlikely to appear soon, but for professional users, the future of this powerful Apple Pencil is well worth looking forward to.
Apple apply the smart pen patent for the first time in 2011, the patent for invention David R.F alkenburg and David i. imon, seven people.